Surveillance Pen Camera Mini DVR Video Recorder  


1280*960 (Photo) / 640×480 (Video) Camcorder
Model No: 036 SPY PEN
                                                                                                                                                Supports up to 32 GB Micro SD Card – Not Included
This miniature video camera is the perfect accessory for secret agents performing top
secret surveillance work. The pen is entirely suitable for recording video and audio in
any location without being obvious or intrusive, as you can simply pop the pen in
your shirt pocket or handbag and film any sensitive diplomatic situations that may
come to hand.
It's very easy to use, please watch our video below

If the battery runs out during operation, the recording will save before turning itself off.
When time is tight and your enemies are closing in, you can unscrew the pen to reveal
a top secret USB connector that can be used to transfer data to your computer,
meaning you can attach and send your top secret information back to headquarters
before making your getaway.
As an added bonus, it can be used as a pen.
Optional items not included are MicroSD Card – this miniature video camera supports up to 32GB micro sd card. It can also be used with a 4GB, 8GB, or 16 GB micro sd card.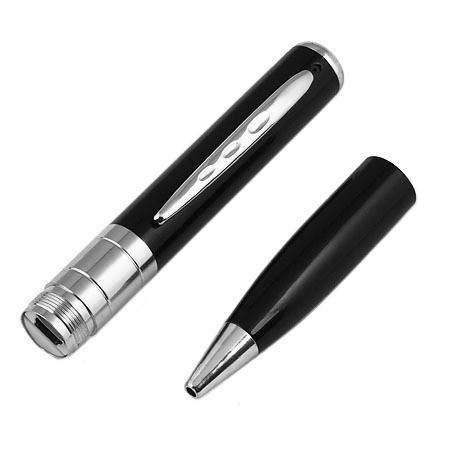 It can record in video (720×480) and take still images (1600×1200). Not only that, but it can also be used as a webcam, a card reader, or simply used as a pen! 
There is no internal memory and a Micro SD card is required (Not included).
It will support Micro SD cards up to 32GB. 
 Included is an integrated rechargeable battery which can be charged with the included USB cable.
  STABLE AND RELIABLE QUALITY
 Super Clear Video and Audio Recording! 
Rechargeable through PC or Laptop
To set the Date & Time:
Create a text file and enter the current time/date as follows;
 YYYY.MM.DD HH.MM.SS Y
 YYYY.MM.DD HH.MM.SS N
 If you want to show the time with the video together,please choose Y, but if you don't want to show the time, please choose N. 
Save the file as time.txt, drag it over to the device and drop it in the main area, properly disconnect, turn on, turn off, and if the file is not there, it took. If it's still there, make sure you format exactly as above with all spaces and periods.